WSI EXCLUSIVE!
NEW TECHNOLOGY!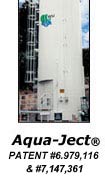 Aqua-Ject® Supply Agreement

CALCIUM INJECTION PROGRAM FOR IMPROVING THE QUALITY OF EFFLUENT WATER


SUPPLY SERVICE DESCRIPTION
In consideration of an exclusive Supply Agreement, Wastewater Solutions will supply solution grade gypsum to the wastewater treatment plant, metered and injected into the effluent flow at the rates and times as prescribed by the Municipality at its discretion. To accomplish this, WSI provides the gypsum itself, including the coordination and cost of trucking to refill the injection storage silo, supplies all of the necessary equipment and controls to store, meter and inject the gypsum, remotely monitors the operation and performs all major repairs and maintenance as may be needed from time to time.
SUPPLY SERVICE DETAIL
Operation: The WSI equipment is fully automated and does not require an operator during normal operation. However, the "dosage rate" (in meq/L) is to be determined by the Municipality and can be adjusted by WSI remotely, (or accomplished locally by a treatment plant Operator if desired). The dosage rate is typically determined by laboratory testing and should need only occasional review. The injection system has numerous sensors to constantly monitor operation and will automatically adjust to changes in water flow and/or chemistry, and will also immediately notify WSI in case of a malfunction of any kind.
Maintenance: Only minor maintenance is to be provided by treatment plant personnel. Major repairs and non-routine maintenance will be provided by WSI personnel at our expense.

Inventory Control: The inventory level in the silo is monitored electronically by Wastewater Solutions and our personnel will coordinate truckload deliveries to refill the silo as needed to prevent the injection system from running out of product.

Invoicing: Billing is monthly and will include a total for all gypsum injected during the month, billed per-ton, together with a base amount equal to 1/12th of the annual service fee. Standard payment terms are Net 30 days.

Reports: A written report will be provided by WSI each week detailing the total volume (tons) of gypsum injected each day, as well as actual storage silo weights taken daily. This will provide the source data for verifying the accuracy of the treatment rate and also for tracking the total tons injected to date.

Performance Guarantee: The WSI injection machine has been designed to achieve a level of accuracy and automation not previously attained with bulk solution gypsum in an industrial application. WSI guarantees the desired treatment level will be met within an acceptable tolerance.

Equipment: Wastewater Solutions provides all of the necessary equipment and controls to store, process and inject solution grade gypsum.

PROGRAM COST
The cost of providing a solution gypsum system is determined by three main factors:
A) The volume of water to be treated on an annual basis.
B) The treatment rate or "dosage" of gypsum to be injected.
C) The duration of the commitment in the form of a Supply Agreement (5-yr minimum).

It is also important for each individual site served to consider the savings which may reduce the actually cost to zero, or even a net savings! For example, savings can result from reduced or eliminated acid, sulfur burning and/or surface spread gypsum programs, reduced O&M costs, reduced labor, reduced liability exposure, and possibly lower fertilizer application rates among others.