WSI EXCLUSIVE!
NEW TECHNOLOGY!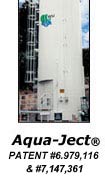 Aqua-Ject® Injection

CALCIUM INJECTION PROGRAM FOR IMPROVING THE QUALITY OF EFFLUENT WATER


The Aqua-Ject® comprises an apparatus and method for introducing a mild slurry into irrigation water in a way that ensures a predictable, highly accurate and consistent application of gypsum where the irrigation flow may be fixed or variable, where the gypsum is handled and metered in dry bulk form, and in a manner that is continuously and automatically adjusting the slurry application rate to compensate for varying amendment bulk density, as well as, and in addition to, varying irrigation water flow rates and/or chemistry, in order to provide a precise treatment level at all times.

The Aqua-Ject® incorporates the necessary means to store approximately 32 tons of dry bulk gypsum as an integrated and dust-free function of the apparatus and process. (Solution grade gypsum is a common application, however the apparatus and process are equally suited to process other dry bulk amendments/fertilizers such as potassium sulfate, ammonium sulfate and other fertilizer compounds available in dry bulk form.)

From a process standpoint, bulk powderous gypsum is introduced into a specially engineered silo. The gypsum then flows by gravity downward through a flow control gate and into a precision feed mechanism. This mechanism first conditions the powder into a more uniform and homogenous bulk density. Then, a separate precision feed auger discharges the conditioned powder at varying speeds. The system will vary the speed of the feed auger by means of a continuous and automated method controlled by a PLC in order to meter the appropriate volume of dry amendment before introduction to fluid to consistently maintain the desired irrigation water treatment level, even with frequent and rapidly varying chemistry and/or irrigation water flow rates.

The precision feed mechanism discharges the pre-measured amount of dry gypsum into a mixing tank, where the powder is blended with water by means of vigorous agitation to create a thin-bodied and uniform slurry. The slurry is then withdrawn from the vat and injected utilizing a positive discharge pump. One of the unique features of the Aqua-Ject® is to perform the metering process in the dry bulk stage, thus overcoming the restrictions and limitations of current equipment which adjust the application rate by metering the final slurry as it is withdrawn from a mixing tank or container.