WSI EXCLUSIVE!
NEW TECHNOLOGY!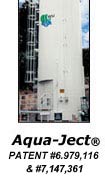 Engineering Firm

CALCIUM INJECTION PROGRAM FOR IMPROVING THE QUALITY OF EFFLUENT WATER

Water chemistry problems common to effluent water can impose limitations on the use of wastewater for irrigating golf courses, sports fields and other green areas because soil always takes on the characteristics of the water it is irrigated with. Amending the effluent with gypsum can optimize water quality, minimizing or eliminating its negative impacts on turf, plants and soil over time. Simply put, better water creates better soil conditions, which ultimately improves overall growing conditions.
One of the unique features of the Aqua-Ject® system is that it is both highly automated and may be remote controlled. Installing the equipment requires only a 16' x 16' square cement pad, and basic utilities like plumbing a 3/4" water line to and from the silo as well as electricity to run it. WSI installs the equipment and performs all major repairs and non-routine maintenance. Wastewater Solutions controls the system remotely via built in modem, and a state-of-the-art touchscreen controller is also located in the base of the unit for local control. If desired, the Aqua-Ject® system can also be tied directly into the treatment plant's existing control room for monitoring and operation via the onboard PLC.
The gypsum injection system is quiet and dust free. All of the componenets are assembled inside a clean and modern skirted silo. The silo has a very durable epoxy finish and mostly aluminum exterior ladder, cage and railing assemblies to prevent rusting in areas of high humidity. WSI remotely monitors the inventory level and coordinates refilling with bulk solution grade gypsum as necessary. (This requires access to the silo by a semi truck and trailer a couple times per month on average.)
The amount of calcium to be injected at any given time is directly related to the gpm flow. The Aqua-Ject® constantly monitors the water flow (and/or chemistry) and will adjust the treatment dosage continuously and automatically to always maintain a predetermined treatment rate, regardless of changes or fluctuations in flow rate or chemistry.

Wastewater Solutions supplies the equipment as part of a Supply Agreement in which the municipality simply identifies and dictates what treatment level of calcium they wish to have us provide. We then provide all of the equipment and operate the system at our own expense, billing the City only for the gypsum as it is used, together with a monthly service fee. No capital purchase is required. The Aqua-Ject® system is equally suited to new construction, or as an easy retrofit to existing treatment plants. At the end of the initial Supply Agreement, the municipality may choose to either terminate the program and have WSI remove the equipment, purchase the installed Aqua-Ject® equipment and own it, or simply continue the program as a Service and Supply agreement for as long as desired.